Press Release - 12 JULY 2017
Crowdfunding campaigns led by women reach their target more often than campaigns led by men, according to new research published today.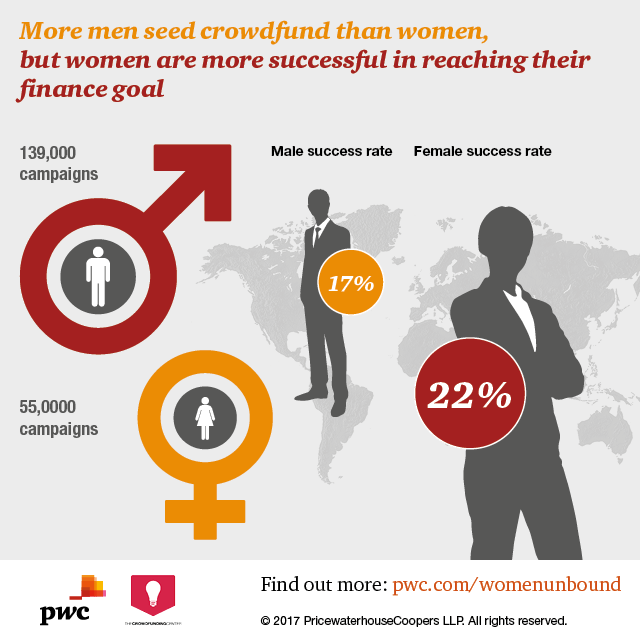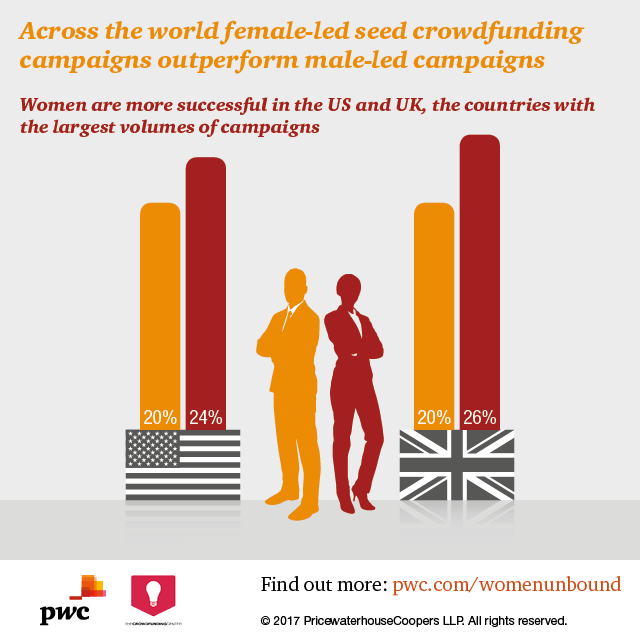 The analysis of over 450,000 seed-crowdfunding campaigns shows that women-led campaigns reached their funding target more often than male-led campaigns.
Campaigns led by women across the world in 2015 and 2016 were 32% more successful than those led by men across a wide range of sectors, geography and cultures.
Furthermore many female-led projects achieve a greater than average pledge than male-led projects: on average each individual backer contributes $87 to women and $83 to men.
The figures, which include worldwide data and data broken down by sector and geographical area, have been published today by PwC and The Crowdfunding Centre in the "
Women Unbound: Crowdfunding – Unleashing Female Entrepreneurial Potential
" report.
The report contrasts female entrepreneurs' success rates in seed (aka rewards) crowdfunding with the continued barriers to funding which many women entrepreneurs face, and come shortly after a report found that just 2.19% of global venture capital funding goes to women.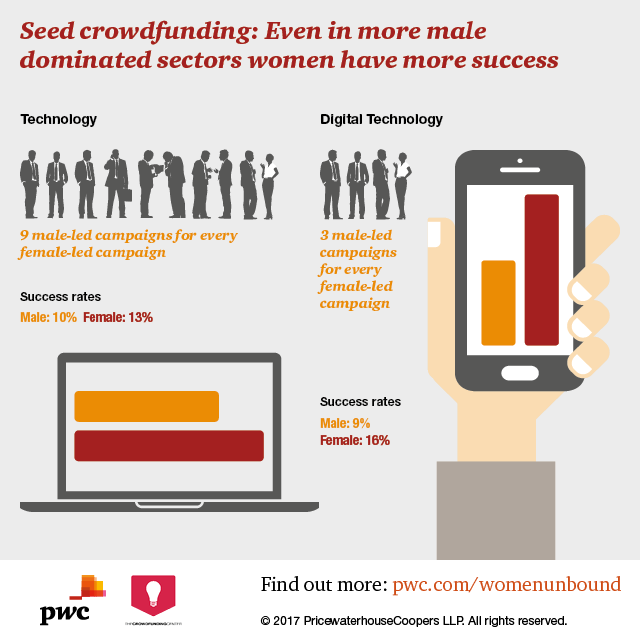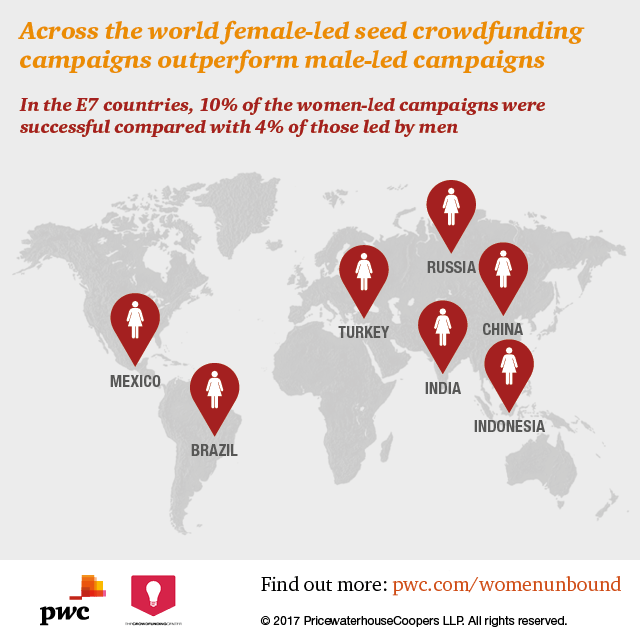 Barry James, CEO of The CrowdFunding Centre, said: "It's time to adjust our assumptions and so our perception. These findings pose a serious challenge to current entrepreneurial and business norms, and especially decision making, pointing to a deep-rooted and destructive bias, albeit unconscious.
"Until now who would have known that when the middle-men decision-makers are removed, and women and men entrepreneurs get equal and direct access to the market not only would this historical and vertiginous bias be removed at a stroke - but when the field was so levelled it would turn out that women would immediately and decisively outperform men across the board?
"So it's time to readjust not just our perceptions but our attitudes, institutions, behaviours – and how we make these decisions.
"This report not only provides the hard data but recommendations and actions for governments, education investors and businesses of all sizes to right this historic injustice and greatly benefit themselves, and us all, in the process."
The report also highlights how seed crowdfunding unlocks a multitude of opportunities beyond finance including market validation, a positive effect on cashflow, an increased likelihood of forging partnerships with other organisations and a greater ability to attract and retain good employees.
It considers why women-led crowdfunding campaigns outperform those led by men, and looks at the success rates of crowdfunded businesses across sectors and the globe.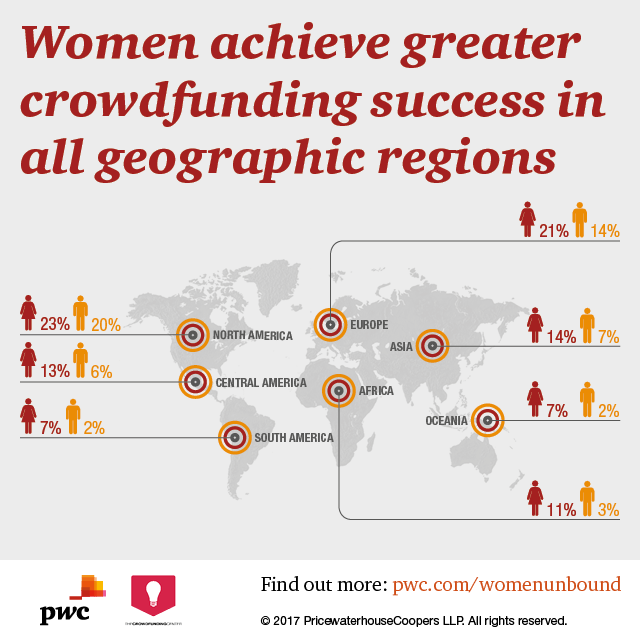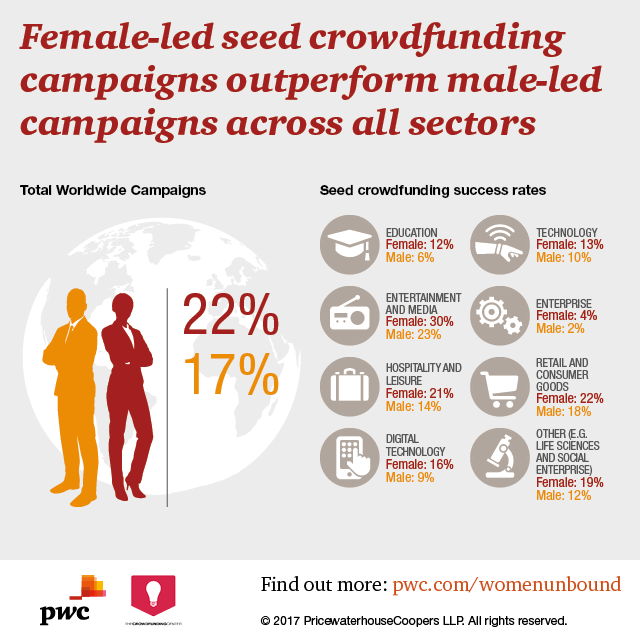 Manoj Kashyap, PwC Global FinTech Leader, says: "The findings of our Women unbound report pose a strong challenge to existing entrepreneurial and business norms by seriously questioning whether there are deep-rooted biases that are preventing greater access to funding by female entrepreneurs. It is extremely positive to see that the growth and global reach of seed crowdfunding presents several major opportunities, each with the potential for major social and economic impact. Including the understanding and acceptance that seed crowdfunding is now a well-established environment through which women can thrive."
The Women Unbound report proposes practical actions, in light of the data, for governments, financial institutions, banks, and venture capital firms, female entrepreneurs, and education and business support organisations.
Kay Klug, co-founder, The Crowdfunding Centre, said "Eradicating barriers provides opportunities that will benefit women and men, business, and society. In light of this report's findings we call on governments, funders, business advisors, educators, entrepreneurs and women and men to seize this opportunity to identify, quantify and remove the grey-suit-factor."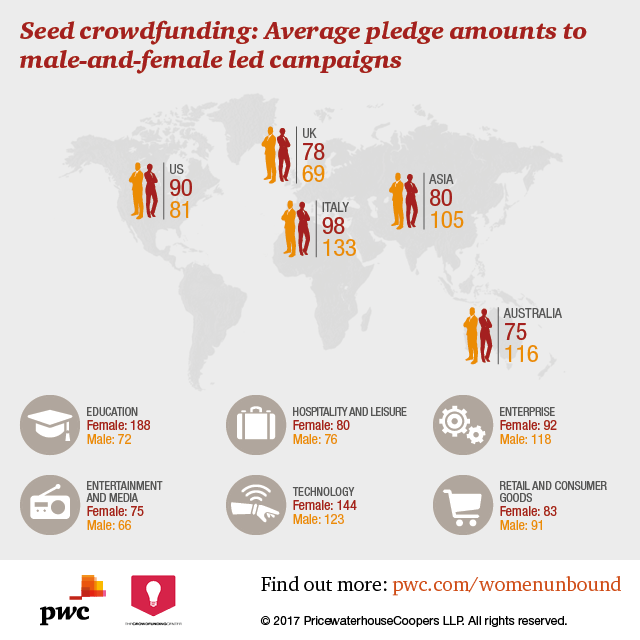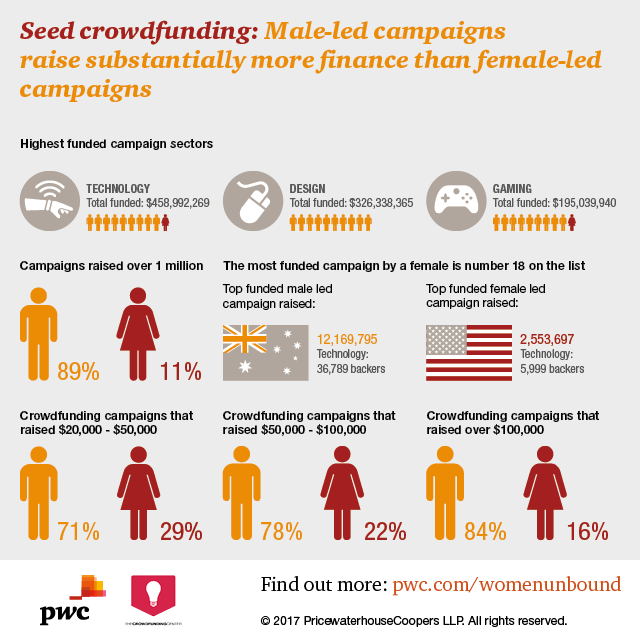 The report is published today, along with additional tools including a data explorer providing insights by country or sector (or both) and tools to support women to understand and access this level playingfield, both available via WomenUnbound.org
This will include a new book, 'New Routes to Funding', also published this week to coincide with the report, and dubbed a "business support gamechanger" by 'Micro Business Champion' Tony Robinson OBE which seeks to make seed crowdfunding widely available by equipping business advisers with the professional level information and insights they need and entrepreneurs with the necessary tools and know-how.